Voici une description de la situation. Here a description.

Mis en service en 1993, le moterur remplacé en 1997, je l'ai acheté en 2010, je l'ai complètement révisé. En tant que technicien en électronique ayant plusieurs expériences en réfection électrique d'aéronef, j'ai complètement révisé l'électricité aux normes de l'industrie. Aucun dommages enregistrés. Je dispose de toue les livres de vol et d'entretien de l'aéronef ainsi que
sa certification de navigabilité de Transport Canada (RAINA). Plusieurs pièces de rechange disponible comme l'arbre de prérotation Munderlinch ainsi que la courroie principale de moteur à l'hélice.

Le rotor, acheté neuf de chez Vortech en 2013 et installé il y a 3 ans n'a jamais volé. Il a toujours été remisé avec des supports pour ne pas qu'il se déforme sous son prope poids. Il n'a servi que pour des éloquants essais de prérotation et d'accélération sur piste.

L'hélice neuve en octobre 2014. Wrap Drive 3 pales. Elle aussi n'a fait que des essais sur piste. Elle a des protection en nickel et vinyle sur les bords d'attaque et un ''Prop guard'' en bas.

Le moteur:

Subaru EJ-22 installé en mai 1997. Son temps de vol actuel est de 156 heures et de 204 pour l'aéronef. N'a été démarré, depuis, que pour différents essais sur piste.

À chaques arrêts complet du moteur, l'hélice a toujours été actionnée de façon à laisser le moteur en position ''TOP'', faisant en sorte que les valves d'entrée et de sortie soient toutes en position fermées. Le moteur a donc toujours été bien entretenu et démarré régulièrement.

À chaques arrêt de fin de saison, pour l'hiver, le moteur a toujours été infusé à l'azote, et ce, à partir de l'entrée du carburateur jusqu'à la sortie de l'échappement. Ne laissant ainsi aucune trace d'humidité et/ou d'oxigène qui auraient pu corroder l'intérieur. Même chose pour le carter du moteur.

L'appareil étant situé à plus de 3 heures de distance aller / retour, il a été long et laborieux de pouvoir terminer les révisions prévues dans un délais acceptable. Ainsi, depuis que j'ai terminé, j'ai perdu mon médical et donc impossible de terminer les 4 heures sur 10 nécessaire à mon accréditation sur l'appareil pour pouvoir le voler. Cette année, j'ai encore essuié un refus de Transport Canada à cause d'un incident cardiaque. Je dois donc mettre mon rêve derrière moi.

Le Gyro est à l'aéroport de St-Jean-Chrysostome, CSG5, 46° 41' 15.56'' N 71° 09' 05.0'' W

Ci joint un vidéo sur youtube d'un démarrage do moteur ainsi qu'une prérotation du rotor.



https://www.youtube.com/watch?v=gFw43YUdq_E




Put into service in 1993, the motor replaced in 1997, I bought it used in 2010, I completely overhauled it. As an electronics technician with several experiences in aircraft electrical repairs, I completely overhauled the electricity to industry standards. I have all the flight and maintenance log books for the aircraft. The rotor, bought new from Vortech in 2013 and installed 3 years ago, has never flown. It has always been stored with supports so that it does not deform under its own weight. It was only used for successfull prerotation and acceleration track testing. No damage recorded on the aircraft. The aircraft has its airworthiness certification. (RAINA). I do have many spare parts as Munderlinch prerotator drive coil and engine main drive belt

New propeller in October 2014. Wrap Drive 3 blades. It too has only done track testing. It has nickel and vinyl protection on the leading edges and a ''Prop guard'' at the bottom.

Engine:

Subaru EJ-22 installed in May 1997. Its current flight time is 156 hours and 204 for the aircraft. Has only been started since for various track tests. At each complete stoppage of the engine, the propeller was always activated so as to leave the engine in the ''TOP'' position, so that the inlet and outlet valves were all in the closed position. The engine has therefore always been well maintained and started regularly.

At each end of season shutdown, for the winter, the engine has always been infused with nitrogen, from the carburettor inlet to the exhaust outlet. Thus leaving no trace of humidity and/or oxygen which could have corroded the interior. Same thing for the motor housing.

Because the Aircraft being located more than 3 hours away round trip, it was long and laborious to be able to complete the planned revisions within an acceptable time frame. Thus, since I finished, I lost my medical and therefore impossible to complete the 4 hours out of 10 necessary for my accreditation on the device to be able to fly it. This year, I was again refused by Transport Canada because of a heart issue. So I have to put my dream behind me.

The aircraft is located at the St-Jean-Chrysostome airport, CSG5, 46° 41' 15.56'' N 71° 09' 05.0'' W

Here a video on youtube of the engine start and rotor prerotation.

https://www.youtube.com/watch?v=gFw43YUdq_E

Voici quelques photos. Here many pictures.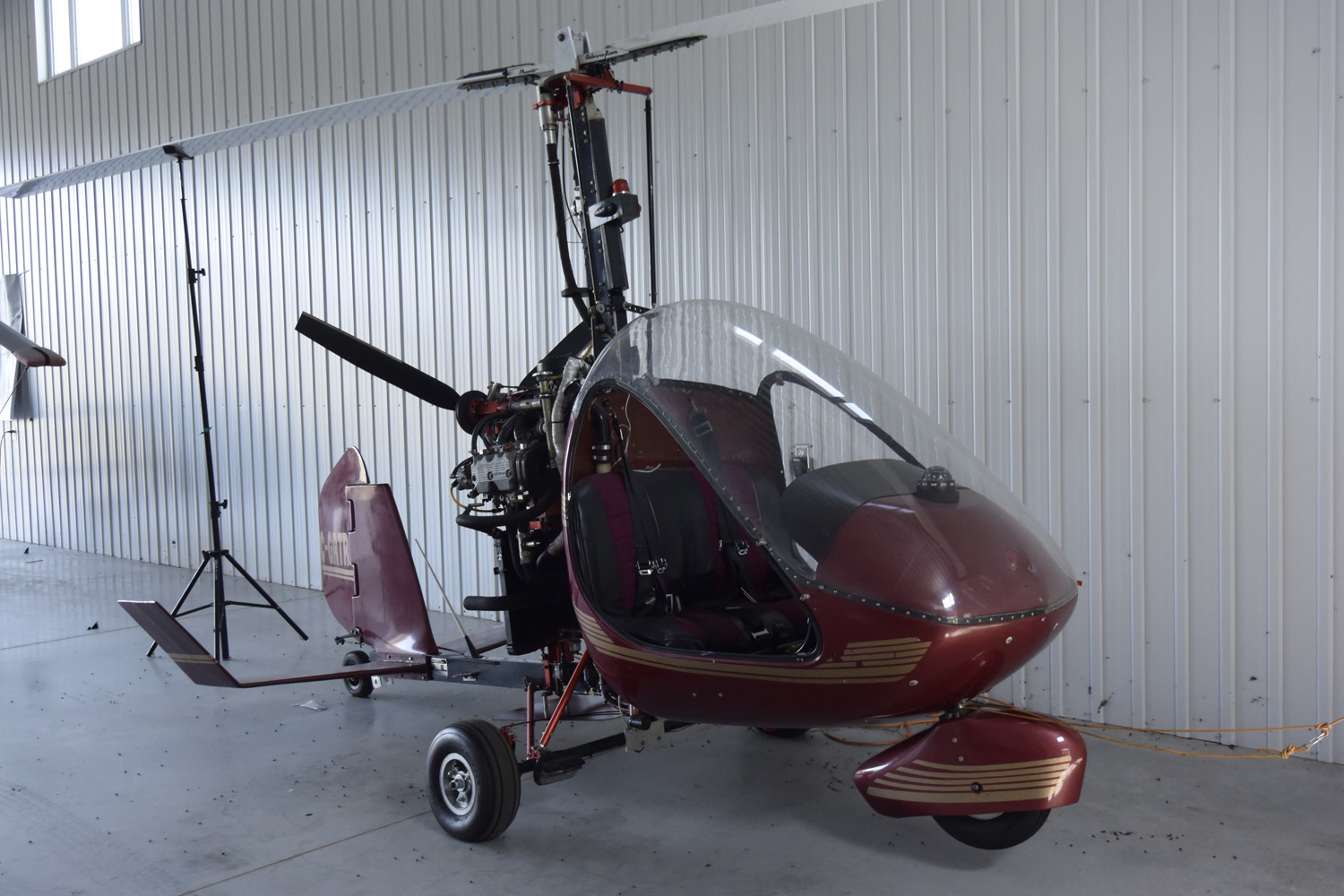 Vue arrière avec les supports de rotor. Rear view with the rotors supports. Vue avant avec H stab et support d erotor. Front view with HS and rotor supports.

J'ai remplacé les innefficaces freins à tambour par des freins à disques beaucoup plus J'ai fabriqué un stabilisateur horizontal efficace. La structure est en aluminium 6061 T6
performants. que j'ai fait souder par un expert à qui on laisse ce genre d'interventions Je ne touche
I did replaced the unefficients drums brakes by lot more efficients disk brakes. pas à la structure. Initialement vendu sans ce stabilisateur, ce qui a entrainé tant d'accidents mortels, le RAF s'est ainsi mérité la pire réputation de l'industrie.
Here the reason why the RAF has the worst reputation of the industry, because first being sold without it has leaded to so many accidents and causalties. So, I also made an effective HS. The structural is 6061T6 aluminium welded by a dedicated expert.
Vue intérieure. Inside view Le Air Gizmo au tableau de bord est pour un Garmin Aera 500 non inclus.
The AirGizmo on the dashbord is for a Garmin Aera 500 not included.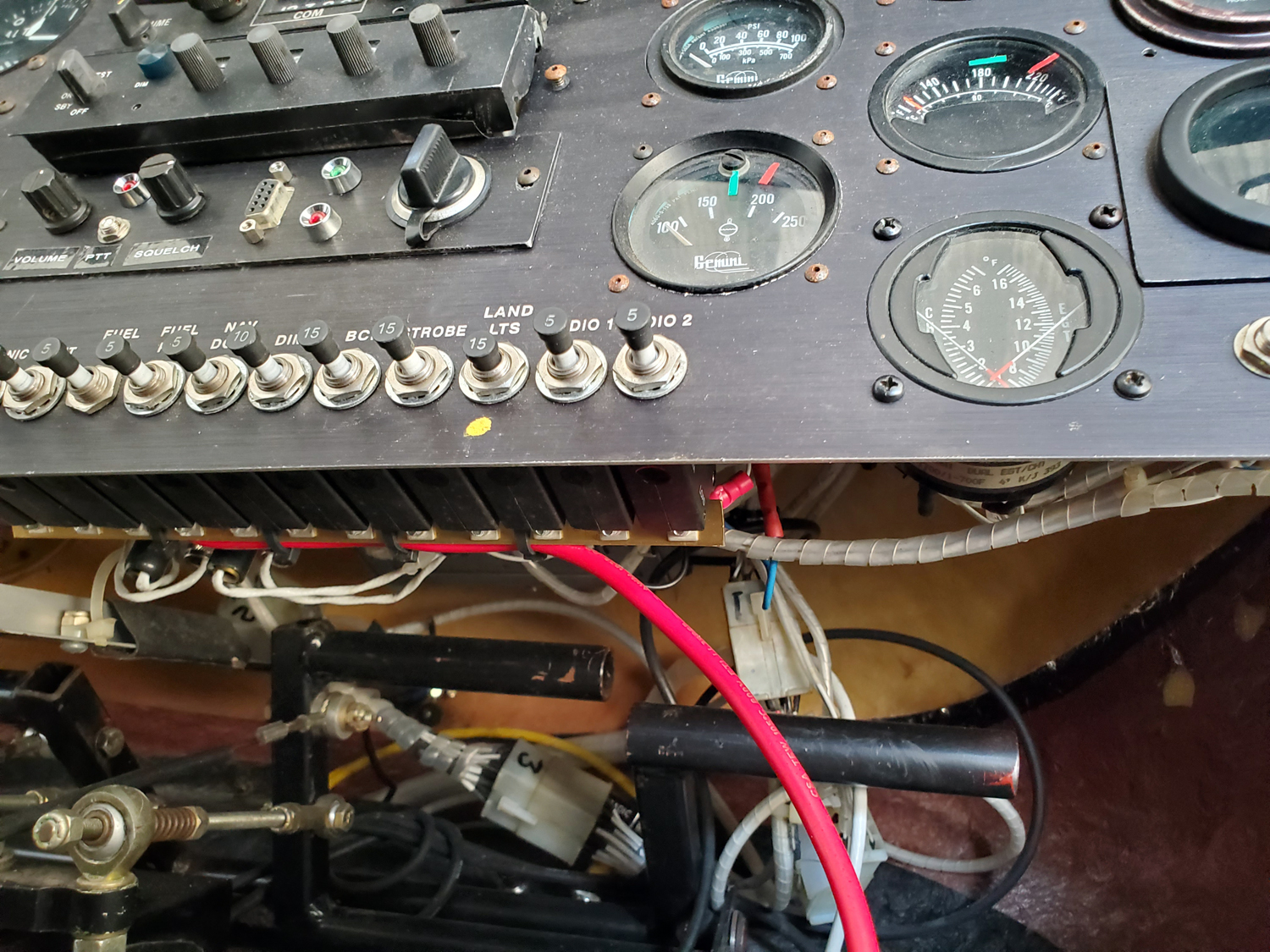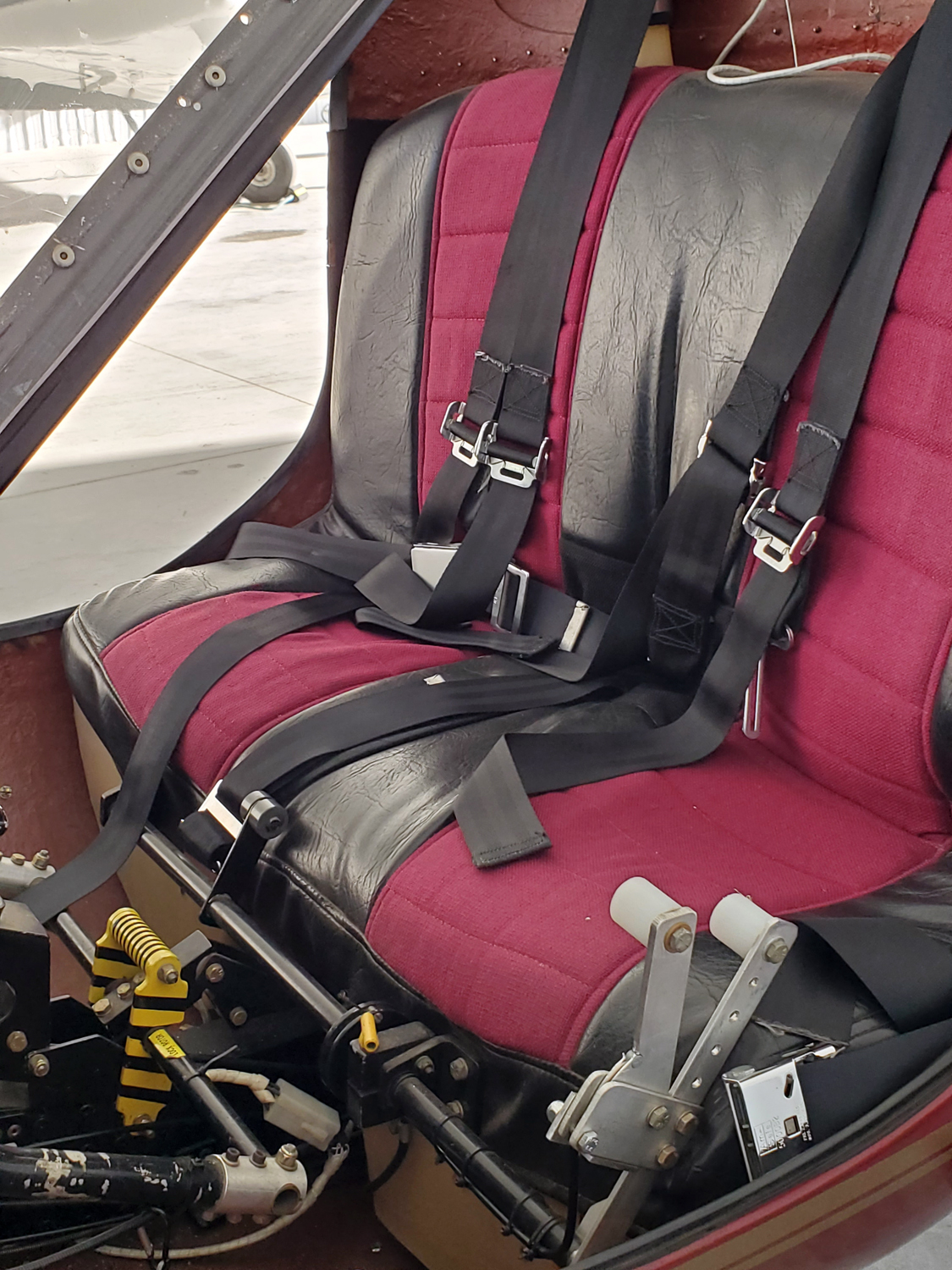 Le tableau de bord peut être démonté et séparé complètement en débranchant Une vue intérieure. An internal view.
des connecteurs, facilitant grandement la maintenance.
The dashboard can be removed totally from the cell by connectors which make
a lot easier maintenance.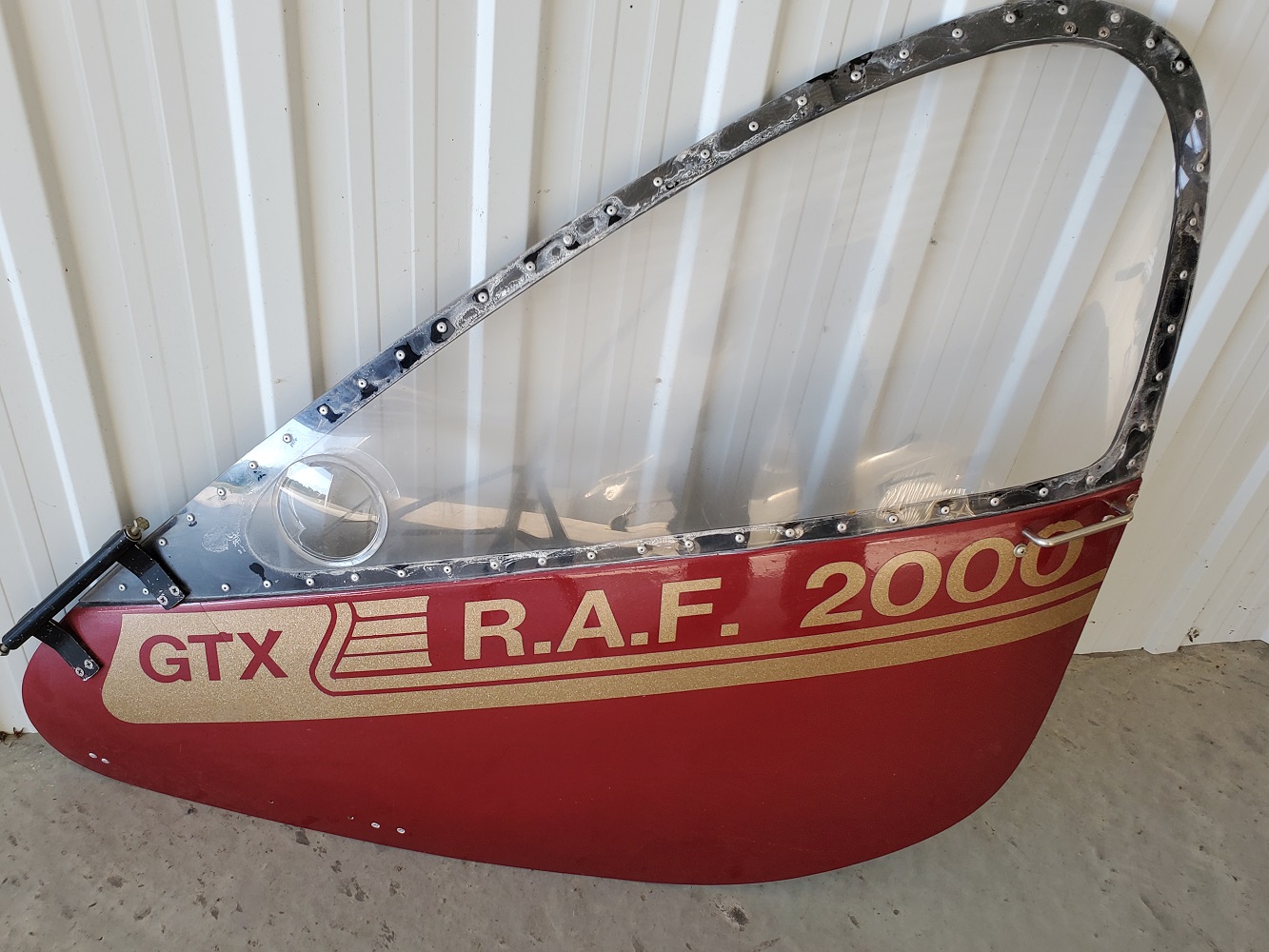 La porte gauche non installée. J'ai toujours prévu voler sans portes. Le mât du côté gauche. Left side of the mast.
The uninstalled left door as I expected to fly without doors. I have both.
Un pare pierre efficace. An efficient prop guard L'hélice avec sa protection de nickel au bord d'attaque. The prop with it nickel protection.
Tête de rotor. Rotor head Le trim de rotor électrique. Electric rotor trim driver.



Le tableau avec le Air Gizmo pour un Garmin Aera 500 non inclus. Outre les instruments de vol traditionnels, il y a aussi les deux gros Rotor et Moteur Tach, RPM/Volt,

Oil Temp, Oil Pressure, Water Temp, Cht / Egt, Airtime tach, Fuel / Air mixture. The Air Gizmo is made for a non included Garmin Aera 500. The radio is old but totally

functionnal. The transponder do not the ''C'' mode encoder.

POH informations;

Aircraft dry weight 790 lbs

Payload 750 lbs

Max take off weight 1540 lbs

Engine Subaru 2.2 130 hp

Prop Warp Drive 3 blades 68''

Rotorblade 30 foots diameter, 8 1/2 chord

Fuel capacity 25 gal US

Endurance ( 1/2 hour reserve ) 4 hre

Fuel consuption ( 80% or 4200 RPM ) 5.3 gsl / hour

Unusable fuel 1/2 gal

Minimum speed 20-25 mph

Cruise speed 70-80 mph

Max speed 120 mph

Stall speed N / A

Take off speed 30-35 mph ( 45-50 mph, dual occupant )

Take off roll ( Single occupant ) 0-75 feets ( 75-350 feets, dual occupant )

Take off roll ( Single occupant ), clear 50' 300 feets @ 50 kts ( 600 feets @ 50 Kkts

Landing rool 0-10 feets

Climb rate ( Single occupant ) 1200 fpm ( 1000 fpm, double occupant )

Climb rate ° 14° @050kts ( 12° @50 tts, double occupant )

C-GRTR Weight and balance Weight ( lbs ) Reference from mast Moment

Reference from mast ( +2'' front midle wheel shaft )

Midel wheels 680 2 1360

Rear wheel 62 74 4588

Empty weight 742 8 5948

Fuel tank, 23 US gal = 138 lbs. 138 -14 -1932

Pilot 180 -14 -2520

Passenger 180 -14 -2520

_________________________________________________________________________________________________

Total Take Off Weight ( Max 1540 lbs ) 1240 4 4924